Setting up your pedalboard can be one of the most engaging things that you can do. However, it's far from an easy task, and one rule always stays the same – more pedals means more work. But at the end of the day, the pedals are all about enhancing your tone and helping you express yourself better. This is exactly why electric guitar (or acoustic-electric guitar) is one of the most interesting instruments out there. But among so many exciting guitar pedals out there, we find fascination with looper pedals. This is why we decided to look more into the matter and bring you the ultimate list and try to find the best guitar looper pedal.
Now, this isn't exactly the easiest task, knowing that there are so many great choices out there. But still, we managed to bring something for every price level and everyone's taste. You need to bear in mind that even the simplest looper pedal can be pretty complex and requires a lot of practice to get things to work. As the pedal records your playing and allows you to layer more tracks on top, it's important that your rhythm is impeccable. So let's get into it.
TC Electronic Ditto Looper
Among their great arsenal of products, we single out TC Electronic's Ditto Looper as one of the best pedals of this kind. Now, what's really exciting is that this is a very simple one. It's as stripped-down as it gets, with only one footswitch and one loop level control. Aside from 24-bit sound resolution, it provides players with just 5 minutes of recording time, but with unlimited overdubs. The controls might be tricky in some way since different functions are accessed with different numbers of taps on the footswitch.
Another exciting thing about it is that it keeps all the memory even when the pedal is turned off and unplugged. This is a great solution for those who want to keep it simple. What's more, it's smaller than a standard pedal.
DigiTech JamMan Solo XT Jamman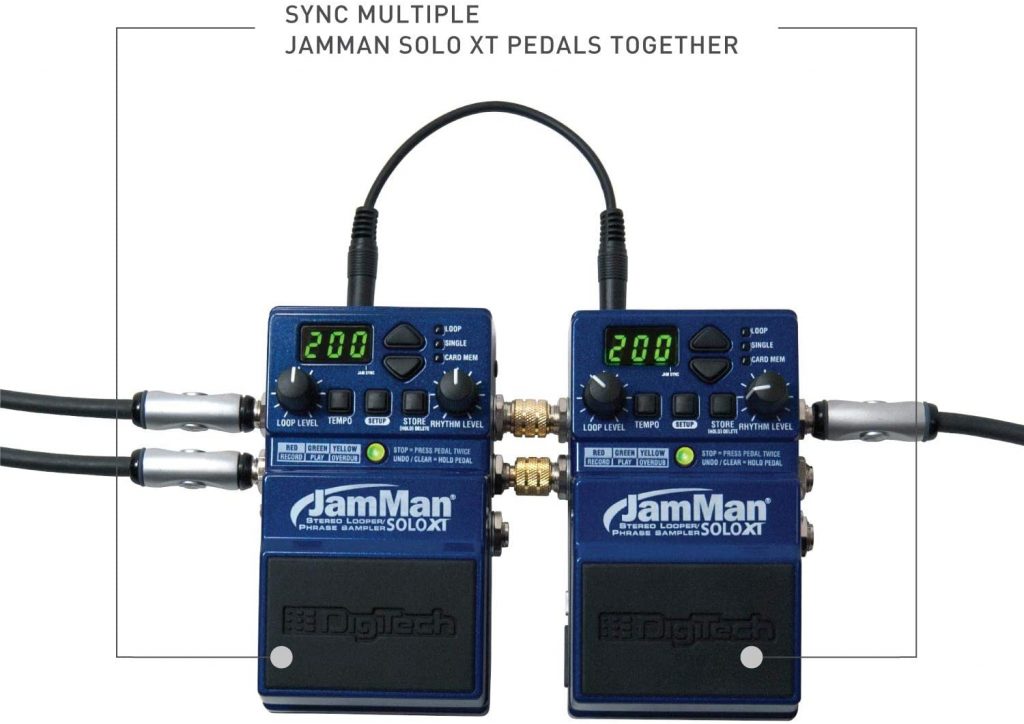 DigiTech rose to fame with its simple yet effective pedals. Their JamMan Solo XT is an interesting solution for a looper pedal. Although compact, the size of an average pedal, it still includes some very exciting features and functions that even bigger loopers have. It comes with two separate volume controls and additional control switches. But the most exciting part about it is that you can connect a few of these together, put them all in sync, and do some more complex looping.
The internal memory of this device gives up to 35 minutes of recording, with the max time for one individual loop of 10 minutes. It can also work with an external memory, which gives even more recording time.
Boss RC-3 Loop Station
When there's a talk about guitar pedals, Boss just can't ever be avoided. As far as loopers go, the company's RC-3 is an interesting one. Although fitting into the classic compact and sturdy Boss enclosure. Again, we have a pedal with two separate volume controls for loop and rhythm. What's interesting is that there are 99 memory locations within the pedal, so you can pull off any of them that you recorded.
This is also a true stereo pedal, meaning that you can both feed it stereo input and send the stereo output to multiple amps or a PA system. It also has a USB connection so that you can pair it with your computer and do magic with it.
Donner Tiny Looper
If you're looking for ultra-small and functional, then Donner's Tiny Looper is one option to consider. It's somewhat similar to Ditto Looper by TC Electronic. However, there are a few advantages here. First, it's a bit more versatile with additional control for recording and playback speeds. You can, for instance, record something and it will play it back at half the speed. Second, it has 10 minutes of total recording time. And third, the pedal is really cheap. This is what Donner is known for, but it's still surprising to see such a great pedal available at a low cost. Definitely worth considering for anyone looking for simple solutions.
Electro-Harmonix 720 Stereo Looper
Electro-Harmonix built their reputation for amazing distortion pedals, like the Big Muff Pi. But they don't disappoint even in the looper pedal category. With their 720 Stereo Looper, you can record and recreate your loops in stereo. We have a total of 12 minutes of recording time, undo and redo options, reverse and half-speed replay modes, as well as a great sound quality at 24 bits and 44.1 kHz sample rate. There are two footswitches that make the record and stop operation much easier. It's a bit more complex than the other ones we mentioned above, but it's still pretty easy to use.
Boss RC-300 Loop Station
On the other hand, Boss' RC-300 is a complete opposite. In fact, we're not sure whether we'd call it a pedal but a complex looping system that's capable of doing some of the most complex stuff. To say that this device is advanced would be an understatement. There are three separate stereo loops that you can use simultaneously. So it's not just the standard pedal that adds layered recordings on top of each other. You can record three individual loops and switch them on or off as you please.
In addition to all this, it includes 16 onboard effects. This makes it a very useful option for solo guitar players who want to create elaborate one-man-shows. There's also an option to import and export .wav files, which can really come in handy for both studio and live settings.
The downside is that you need some experience and practice to handle it. However, there's no better commercially available looper station than this one.