Are you on the market looking for quality acoustic guitars but don't have too much cash in your budget? You'll probably feel relieved hearing that there are dozens of top-quality models that do not cost a small fortune.
Before we begin, we should also mention that the low-end price point category of this field of the market is practically the most crowded one, so we've made sure to pick only the best-sounding, most versatile standalone guitars and packages for your convenience. Without any further ado, let's dive straight into it.
Our opener pick is basically one of the more expensive budget acoustic guitars, but that's mainly due to the fact that it features a versatile selection of top-shelf tonewoods, including Spruce on the top, Eastern Mahogany on body and back, and rosewood on the fretboard.
Furthermore, the back and sides of the S35 are laminated, which means that they're substantially sturdier than most entry level acoustic guitars. In terms of tone, Jasmine's S35 offers a full-bodied sound with a rich soundstage, and it also packs quality hardware to keep it in tune for longer periods of time.
Basically, it doesn't get much better than YMC's starter pack if you're looking for a cool-sounding acoustic guitar. It's available at a bargain price and it features a variety of complementary guitar accessories, such as nine guitar picks (in different colors), a pitch pipe, a clip-on tuner, a guitar strap, and a lightweight carry bag. As for the guitar itself, it features basswood on top and back while its body is made of laminated hardwood. It doesn't sound as great as Jasmine's S35 per se, but it's equally durable and perfect for rock, jazz, or slightly more delicate sub-genres of music. Obviously, its affordability is its biggest advantage.
Our next guitar pick is a short-scale nylon-strung acoustic guitar that was tailor-made for beginners and students of music. The guitar sports a variety of high-quality tonewoods, including basswood on the top, hardwood on the body, and linden wood on the back.
Due to the fact that it has a shorter scale length its playability is drastically superior in comparison to most similarly priced models. On the downside, it doesn't have fret inlays, which means that you'll probably need some time to get the feel of it.
Here's yet another nylon-strung acoustic guitar; the Strong Wind Classical Acoustic axe is meant for people with a bit shorter hands, as well as for teens and kids just above twelve. The playability is awesome, and it offers a distinctly warm sound due to its full basswood construction. It also packs smooth machine gear heads that offer decent intonation and easy tuning, although they should be handled with care as they are not overly robust. Lastly, you'll also receive a complementary gig bag free of charge should you opt for this guitar
The IDA CB is one of the best-sounding and best-looking acoustic guitars on our list. It features spruce wood on the top, a blend of mahogany and spruce on the body, a body made of quality mahogany, and a rosewood fretboard. This eclectic combination of tonewoods affords this guitar with excellent, versatile sound quality.
Furthermore, it boasts a marvellous Cherry Sunburst finish, so it's an eye candy atop of the fact that it offers a beautiful sound and tone. The only thing you won't like so much about IDA CB acoustic guitar is that its tailpiece is not necessarily the sturdiest, so you maybe should consider investing in a guitar stand when you can.
Here we are looking at Fever's FV 030 RD, which is a premium-quality budget starter acoustic guitar pack comprised of a clip-on tuner, a padded gig bag, several picks, replacement strings, and a great-sounding guitar.
The guitar features a combination of maple and hardwood tonewoods, so it's both durable and great-sounding. Furthermore, the accessories it comes supplied with are also fully functional and add extra value for the buck.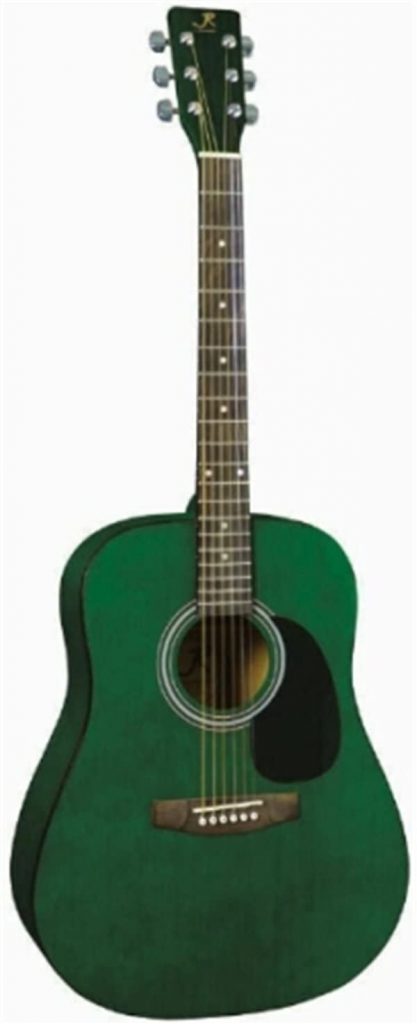 The JR65TGR is a vintage-looking dreadnought acoustic guitar that offers a great balance between durability and tone. It packs a spruce top, a hardwood body, and back made of Agathis wood, so you'll find its tone scattered across the tonal spectrum.
Moreover, the hardwood body affords it with a massive level of robustness, so the chances are that even your grandkids will be able to enjoy playing this guitar.
Even though it does not come with any complementary features (unlike some of our earlier picks), it's a high-value guitar fit for both skilled guitarists and beginner players.

We're pulling down the curtains with Rocket's acoustic guitar package; this is a short-scale guitar that is best suited for beginners and teens, but its playability will be able to reward even seasoned guitarists who are searching for a cheap backup guitar.
You'll also receive a variety of gratis features, including a set of replacement strings, a quality clip-on tuner, a couple of thin guitar picks, and a beautiful gig bag. Although Rocket's acoustic guitar doesn't offer the tonal qualities of a bit more expensive models, it sounds and looks great for the money.