The electric guitar pretty much changed the history of modern music. Almost any genre today will have at least some sections where it's present, one way or another. With this in mind, it comes as no surprise that the instrument is popular even to this day. After all, we have plenty of options for expression and the instrument comes in so many shapes and forms, satisfying everyone's needs.

However, it kind of gets hard to find the right guitar for the price that you're aiming for. It seems as if the market is filled with either those super-cheap electric guitars or super expensive ones, and that there's nothing in between. While cheaper ones can be really good for the price, there are still some drawbacks that might feel like deal-breakers to intermediate or advanced guitarists.

This is why we decided to do a little digging and bring some of the best electric guitar deals within the mid-range category. These instruments are often very similar to pro-level stuff, although they come as "stripped-down" versions without some of those more expensive additions or features. One thing's for sure – you can't go wrong with any of these guitars below.
Fender Player Stratocaster
While Fender is well-known for the professional level guitars, there are still some mid-priced instruments that are more than worth your attention. A great example comes with their Player series, especially the Player Stratocaster. Although the price is significantly lower compared to some more expensive Strats, you'll still get a great tone and amazing playability. All the basic features and traits are there, including an alder body, maple neck with a "C"-shaped profile, classic tremolo bridge, and three single-coil pickups. Additionally, it also has 22 frets instead of the standard 21 that we find on most Strats. It's the best choice if you love Fender Strats and just don't feel like spending a ton of money on one.
ESP LTD EC-401
ESP's subsidiary LTD has a lot of exciting stuff to offer. And if we're talking about intermediate mid-level price electric guitars, you'll hardly find a brand that surpasses them in this category. If you're a metal musician that still values some diversity and likes some "traditional" features, then their EC-401 is what you'll want to check out. Based on the classic Les Paul shape, it comes with a "sharper" look and a very modern-looking design and finish. The most important thing about this guitar is its set of active EMG pickups. The combination of 81 in the bridge position and the 60 in the neck position brings a very effective combo for metal music. This one is a real mean machine for metal lovers, both in terms of tone and aesthetics. And, on top of it, it's really ergonomic and easy to play.
Paul Reed Smith SE Custom 22
There's one amazing thing about Paul Reed Smith guitars – they're really consistent. Even if you buy the same model a few years later, it would be as if you got them from the same production line and the same exact series. This is also the case with their SE Custom 22 guitar, which is, at this point, an industry standard. The very comfortable body and neck shape make this guitar really easy to play. This is all accompanied by Paul Reed Smith's stock 85 and 15 humbucker models, as well as basic volume and tone controls. This is a fairly versatile and extremely reliable guitar that will serve you well even if you're an advanced guitar player.
Ibanez RG450DX
Ibanez is a name that needs no further introduction. For many decades now, they've been making some of the best guitars of all time in pretty much all the price categories. For this list, we're bringing a relatively cheap but really effective RG450DX model that's been around for a while. Bearing the classic "Super Strat" shape, it features a mahogany body, maple neck, as well as a jatoba fretboard with 24 jumbo frets. In combination with the DL Tremolo Bridge and Ibanez's own Quantum pickups in H-S-H formation, this makes for one extremely versatile shred machine. Although popular among metal players, it's also useful for almost any other genre out there.
Epiphone G-400 Pro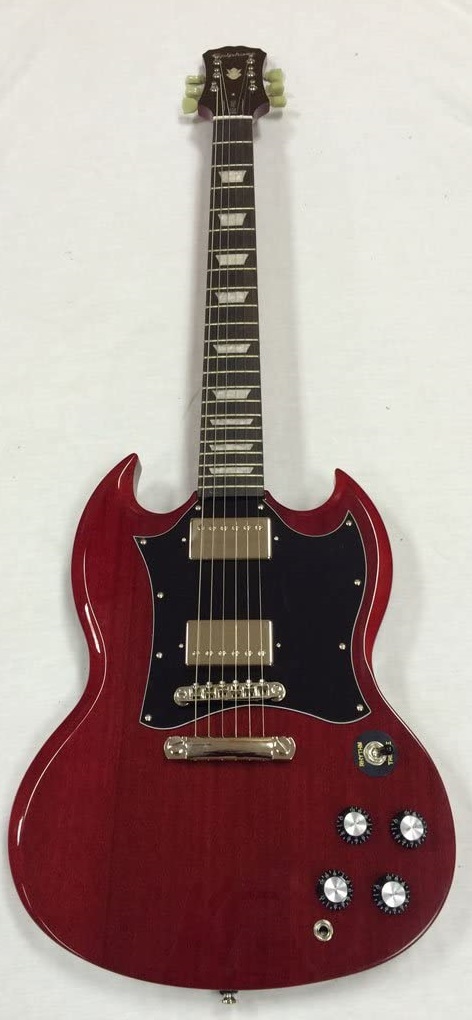 If we're talking about quality mid-range guitars, Epiphone is an unavoidable choice here. The long-lasting line of SGs continued with Epiphone's amazing G-400 series, with Pro models taking a really special place. This guitar takes all the classic SG features and wraps it is a more "modest" package. The classic design is there and it's accompanied by the standard configuration of two humbucking pickups and two volume and two tone pots. To put it simply, this guitar will feel almost as if you're playing Gibson's SG, aside from a few "stripped-down" features.
Schecter Omen Extreme-6
Lastly, we have one amazing mid-range choice for metal lovers. Schecter really makes some versatile stuff, but they're mostly popular among metal fans. This is mostly due to guitars like their Omen Extreme-6 model. This guitar sounds as mean as it looks. What's more, it will also provide a great platform for both chugging heavy riffs and soaring high-gain lead sections. Its Schecter Diamond Plus pickups really do a great job and even bring some versatility in there with the coil-splitting feature.