While everyone is free to choose the instrument that they want, there's just something so great about guitars. It's no wonder that the instrument is so popular, as it finds implementation in almost any genre that you can think of. What's more, it's pretty easy to learn some basic chords and play along to some of your favorite songs.
Although electric still seems to be the most attractive choice, acoustic guitars are pretty widespread too. As a matter of fact, there are acoustic guitars with built-in piezo pickups and electronics that can be plugged in into PA systems or studio mixing boards. However, there are also specialized amps for these instruments. This is why we decided to look more into this and bring you the best acoustic guitar amplifiers. Till you add the best acoustic guitar amp to your kit, you aren't going to bring down the house.
They are, of course, different than the standard electric guitar amps. Instead of focusing more on the mid-range of the spectrum, these amplifiers have a "flatter" response. They can be described as more compact PA systems specialized for acoustic guitars. They either work with direct inputs or microphones, or can also handle vocals and backing tracks. Here is a list of the best acoustic guitar amp for the moneythat you can find these days.
Yamaha THR5A
With Yamaha conquering pretty much every corner of the music gear world, it's obvious that there's going to be at least one of their products here. For many enthusiasts they offer the Best small acoustic guitar amp in the market. The THR amp series is right up there in popularity and has a lot of interesting stuff to offer. When it comes to acoustic guitars, THR5A is a great option.
This is a small 10-watt amp with a great potential for tone shaping. What's quite exciting is that it includes an array of microphone models, which add a more realistic vibe to guitars with piezo pickups. Just like other amps from the series, it also has USB connectivity and can be used as an audio interface for home recording purposes. It's a very versatile one.
Fishman Loudbox Artist BT 120W
While we mostly know Fishman for their great electric guitar pickups, the company has many other interesting products to offer as well. Their Loudbox Artist BT acoustic guitar amps are a great tool for any performing artist. First, these have 120 watts of power, which is more than enough for smaller and mid-sized gigs. Secondly, the amp has two channels and can be used for two guitars, one guitar, and one mic, or even two microphones.
Each channel has a combo input which can be used for both 1/4-inch jacks and XLR jacks. Each of the channels has basic controls, like 3-band EQs, but also includes phase and pad switches, as well as anti-feedback control and additional effects. Needless to say, the amp's tone is rich and can find application in pretty much any style of music.
Laney LAN-A1+
We could go on for days about how amazing Laney electric guitar amps are. And that goes for all price ranges. Here we have a great acoustic amp, their LAN-A1+ that bears two channels with it and detailed tone-shaping controls. Although it has 80 watts of power (which is enough for such an amp), its specific tonal characteristics make it seem like it's a bit more powerful amp.
It also has a few essential effects and can work well both with guitars and microphones. It's a simple amp that does more than just a decent job. It's a great choice for beginners, intermediate players, or anyone who needs a simple amp for one-man shows.
Acoustic A1000 Combo
Acoustic's A1000 combo amp is a fairly versatile piece with 100 watts of power. It features two channels, but each has its own two combo inputs. It also has the +48-volt phantom power for condenser mics or passive guitar electronics.
The amp's strongest point comes to great effects and separate processing for each channel. Each of these has 20 factory presets, as well as 20 user-generated presets. It's pretty simple to use, it's not that expensive, yet it manages to deliver some great tones.If you are looking for the best acoustic guitar amp for the money, this is one for you.
Roland AC-60
With Roland being one of the biggest manufacturers in the market, it's hard not to include their products here. Especially knowing how well these can do in practice. Here we have their AC-60 acoustic guitar amp, and just like with the rest of their stuff, this one relies on simplicity. Nonetheless, the amplifier delivers, and you're able to create a wide array of different tones.
This is a stereo amp, bearing 2×30 watts of power. It also comes with effects, including a spacious stereo chorus, as well as some great-sounding stereo reverbs and delays. There are also direct line outputs for either PA systems for live settings or studio recording applications. Not many amps out there can compete with Roland's AC-60.
AER Compact 60/4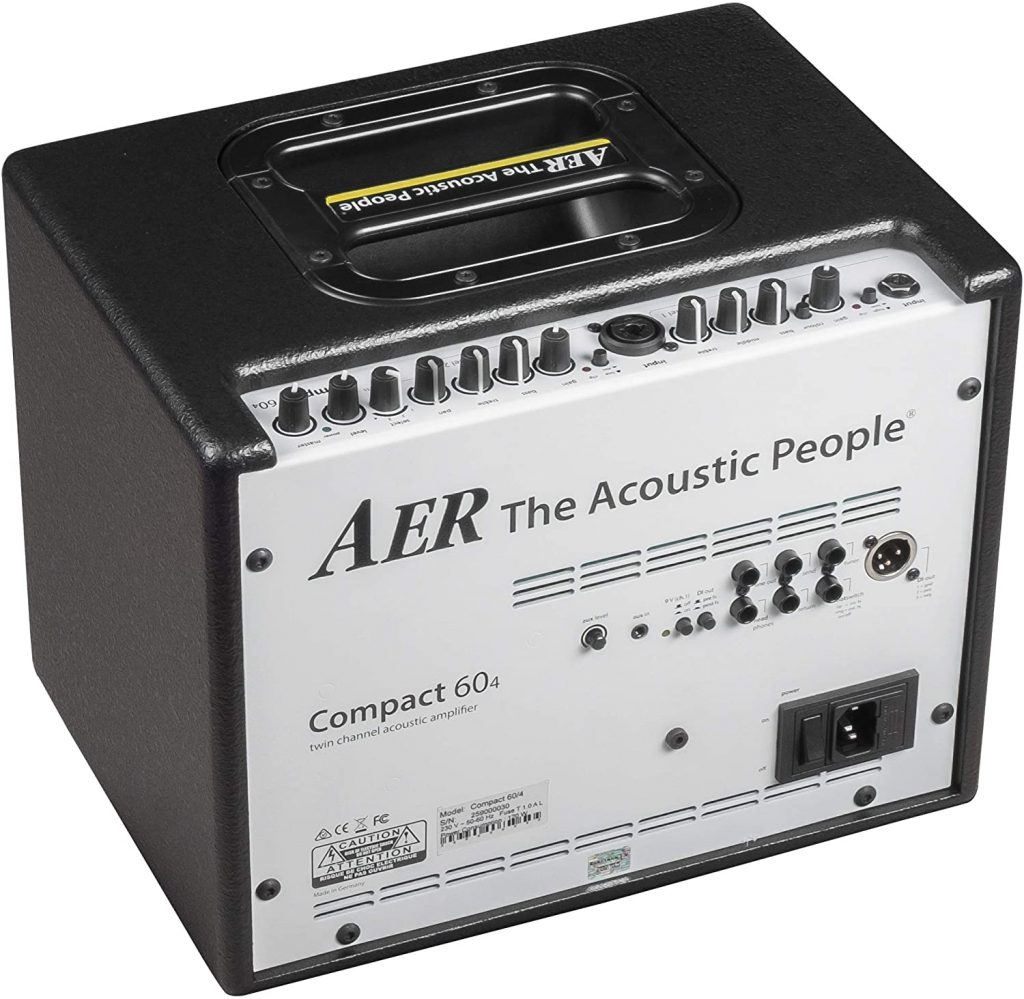 But if you're seeking for that fully professional acoustic guitar amp, look no further than AER and their Compact 60/4. This dual-channel amplifier is the continuation of the company's long-running series. It's a 60-watt amp with two channels on it. It will surely make it the best small acoustic guitar amp on our list.
The first channel features a 3-band EQ, gain control, phantom power, and pad switch for high and low attenuation. This one comes only with the 1/4-inch instrument input. The other one is simpler and has a 2-band EQ. However, it bears a combo inputs for both instruments and microphones. Compact 60/4 also comes with on-board effects, providing players with a great-sounding chorus, delay, and reverb.
But what fully stands out is the amp's tone and reliability. While the Compact 60/4 is expensive, somewhere in the range of tube-driven electric guitar amps, the price is more than justified. If you're planning on doing frequent live shows and studio work, this is the one that you'll want to get.
Do let us know which one of these are you planning to buy in the comments section below or if you have something else in mind for the best acoustic guitar amplifier.