There are only a few iconic guitar designs that come to mind when the term 'electric guitar' is mentioned, and the Les Paul is certainly one of them. The Gibson Les Paul Studio is a perfect example of a model that has timeless appeal while also evolving with modern features.
The single cutaway body design on the Les Paul Studio is instantly recognizable, but this isn't the Les Paul of times past. The mahogany body is chambered to provide excellent weight relief (Les Paul guitars have a reputation for being heavy), all while keeping that classic Les Paul tone. Tone and functionality is one thing, but the Les Paul Studio has great looks as well. There are four different finishes to choose from, and each highlights the beauty of the carved maple top.
Mahogany is used for the neck as well, providing strength and stability while adding to the overall tone profile. You'll also find a true rosewood fingerboard that's home to 22 medium jumbo frets, and the fret markers are the traditional acrylic trapezoids that have been a hallmark of classic Les Pauls for over 50 years.
Hardware on the Les Paul Studio is a great blend of tradition with some modern touches. Two humbucking pickups provide all of the rockin' power you may need, and they are controlled with individual volume and tone knobs (one for each pickup). The nice touch here is that the Studio comes stock with push-pull functionality on the volume knobs, offering coil tapping options to further shape your individual sound.
Les Paul guitars are, with very few exceptions, hardtail-style guitars. The Studio follows in that same vein, with an aluminum Nashville Tune-O-Matic bridge along with an aluminum stopbar. Tuners are sealed and are exceptionally smooth, giving you precise tuning accuracy.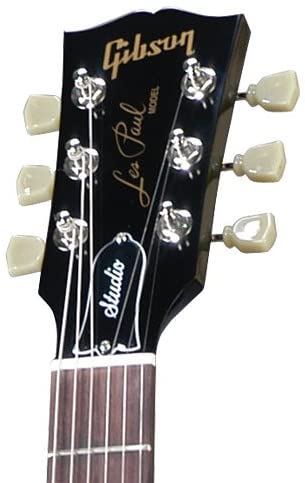 OK – so all of that sounds like the making of a great guitar, right? Sure it does – but none of it matters unless it performs where the rubber meets the road, and that's how well it plays and sounds. The Gibson Les Paul Studio really shines in both areas.
The neck feels incredibly fast, and the action seems to be spot on right off the shelf. Typically a pro setup is recommended with any new guitar, but we'd be hard pressed to say that's the case with the Studio – it played like a dream with little-to-no fret buzz.
Tonewise, if you've been craving that humbucker sound that Les Paul's are known for, then you certainly won't be disappointed. The combination of the individually voiced pickups (490R for the neck, and 498T for the bridge) can provide everything from a warm jazz vibe to a pure rock 'n roll screamfest!
Overall, the Gibson Les Paul Studio is a great choice for any player that wants that classic Gibson mojo, and it can be had for a pretty reasonable price considering all that you get. It's a very well balanced instrument from all angles: great looks, awesome sound, smooth playability, and an attractive cost. Highly recommended!