What makes electric guitars so fun is the fact that you can do pretty much all kinds of tones with it. To enhance their performance, you don't only need to have a great amplifier, but also a well-thought-of pedalboard with versatile pedals on it. In fact, this is probably the most fun thing about this great instrument, although this particular aspect tends to make this hobby quite expensive.
Nonetheless, guitar players keep coming back to buying new guitar pedals. It seems that there's never that "perfect" tone and that everyone keeps trying to add more to it. And among many tone-enhancing pedals, modulation effects seem to be pretty popular. In particular, chorus pedals have a lot of use. Any genre from pop to extreme metal, you'll find even the very same pedal used in these two settings that are on the opposite ends of the spectrum.
The only problem, however, is finding the right chorus pedal for your needs. This effect – which copies the signal, delays it slightly, and tweaks its pitch – can make it sound as if your guitar is "doubled." It's pretty interesting as it finds application both for clean and distorted tones. It can also make your guitar sound as if it's a magnetic tape recording. In fact, the original guitar choruses were tape-based.
These days we have both analog and digital chorus pedals. We've looked more into the matter and brought you the list of the best chorus pedals that you can find on the market today.
Boss CH-1 Super Chorus
Boss CH-1 Super Chorus sounds as great as its name suggests. Well, this comes as no surprise at all, since Boss is well-known for making some of the best pedals in pretty much all effects categories. CH-1 is a continuation of their famous line of chorus pedals, which dates back to the late 1970s. The controls are pretty detailed for such a small pedal, with parameter knobs determining effect level (or mix), EQ (pretty much like a tone knob that just alters the processed signal), rate, and depth.
We would argue that this one works rather well with distorted tones. Of course, it can also be used for clean parts, with many different tone-shaping options at your disposal. Another great thing about it is that you can use it as a stereo device. In short, you can't ever go wrong with Boss pedals, no matter the genre that you're playing.
MXR M234 Analog Chorus
MXR pedals also go way back to the 1970s. These days, they're owned by Dunlop, but they still pay respect to the old brand, especially with analog devices like the M234 chorus pedal. Once again we have a classic chorus on our hands. However, two important things make it so special. The first one, which you can notice at a first glance, comes down to its more detailed controls. Aside from level, rate, and depth parameters, which are common for almost all chorus pedals, we also have a 2-band EQ that affects the processed signal.
The second thing that makes it so great is its warmth. If you're a lover of vintage stuff, MXR M234 is a great choice for you. It's not that expensive either, especially considering its overall performance. Pair it with any Overdrive pedal and you've got yourself a quite smooth-sounding mellow effect.
TC Electronic Corona
We could go on for days about the greatness of TC Electronic pedals. But the one that we're including here is their Corona chorus that can help you create some surprisingly great tones. Anything from a slight and mellow chorus, and up to a swirling wacky "broken" sound – it's all possible with this one.
Of course, we have the basic controls, which are more than enough to dial in any type of chorus that you might need. However, things get pretty interesting with an additional switch. You can use it as a standard chorus pedal, and there are two more modes as well. We have the so-called "tri-chorus" that makes your tone rather spacious. And there's another one, which is the company's famous TonePrint preset. With this one, you can download presets made by some of the biggest names in the guitar world and apply it to your tone. What more could you possibly need?
Rowing Analog Chorus Ensemble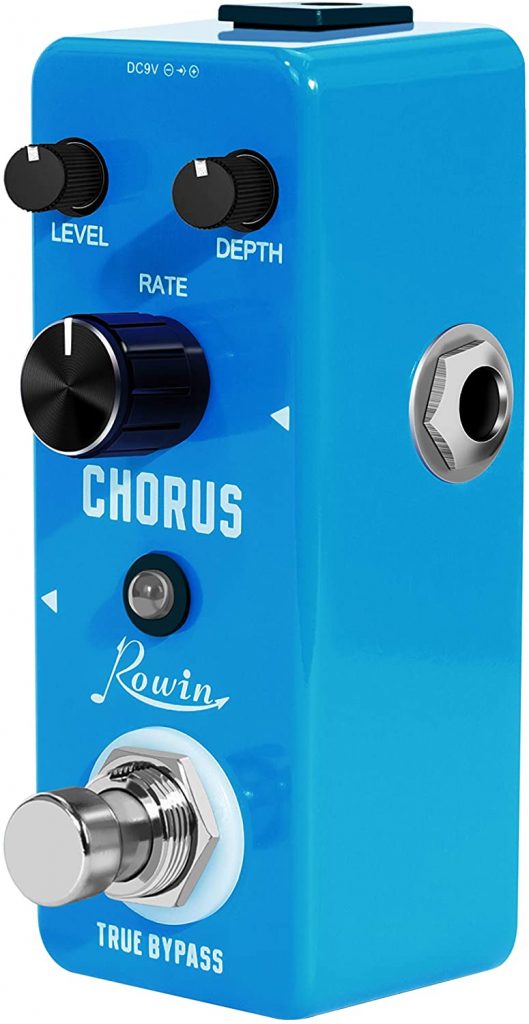 Although not as famous as other brands you might encounter online or in music stores, Rowing has some nice pedals to offer. What's more, these can get quite compact and cheap. We have their completely analog Chorus Ensemble that comes with simple yet very interesting parameter controls. Aside from level, depth, and rate, you can also add more depth to it and create some of those crazy "pulsating" chorus tones.
The pedal's circuitry is equipped with a very vintage-oriented MN3207 BBD chip that can take you back to the 1970s. Pretty trippy tones for both clean and distorted tones. And the best part is that you can fit it on even the most crowded pedalboards since it's so small. It's perfect for anyone who's working with a limited budget.
Walrus Audio Julia
One of the best things about the chorus effect is that it adds another dimension to your tone. This is the reason why it sounds so "spacious," both in lead and rhythm sections. However, Walrus Audio's Julia pedal takes this to a whole new level and lets you create some amazing tones. Whether you're into modern or old school stuff, you can make anything that your heart desires.
The highlight of Julia is its "lag" control. Not to get into too many technical details, this control helps you create some rather trippy yet controlled chorus presets. To be fair, there's no other chorus pedal out there that can match it, and we'd recommend it to guitar players of pretty much any genre.