The world of the electric guitar is so vast that even the most experienced musicians and professionals won't be able to know everything. What one guitarist might find useful, the other one might not even know about. Well, it's no wonder, since we have so many different guitars, pickups, effects pedals, as well as amplifiers to look into.
And it's all really fun and exciting until you see all the complex rigs that take up not only a lot of space but can drain your life savings completely. There's really no going around it – you need to pay a lot if you want to sound good. However, there are some cost-friendly solutions that can serve you well and replace those elaborate pedalboards, and even big amp stacks. With the development of digital technology and its implementation in the world of guitar (which started in the early 1980s), we got some really compact and diverse multi-effects units.
These days, you can actually find a lot of very affordable digital multi-effects units. Of course, with the high demand and saturation of the market today, there are some not so good digital processors that you should avoid. But in case you're looking for a practical and affordable multi-effects pedal for your guitar that actually sounds good, we've done some research and brought a list of some interesting products you should check out.
Zoom G1X Four
Zoom have become really famous for their interesting and practical multi-effects units. Even the biggest names in the guitar world have started on a small Zoom multi-effects pedal. The model that's really popular and useful these days is the company's GX1 Four. It's a fairly straightforward unit with over 70 effects, 13 different amplifier models, as well as some drum patterns. What's more, there's also an onboard looper, which can turn you into a one-man-band sensation. With 50 user presets and 40 factory presets, you'll be able to do any genre that you need.
Vox StompLab IIG
While we all know Vox for their wonderful tube-driven amplifiers, they've also spent their time making some great multi-effects units. In fact, some of their stuff is a great combination of price and quality. And these days, we have their wonderful StompLab IIG. The most surprising thing about it is the price tag, putting it below the $100 mark. This is really insane, knowing that you can plug this little thing into a PA system and get a very convincing tone of some great amplifiers. With 100 presets, an abundance of effects, and great digital replicas of guitar amps, it can serve you even way past the beginner and intermediate skill levels. With some time dedicated to creating good presets, you can even use it for some live shows.
Behringer FX600
Behringer never ceases to amaze us. Despite their low prices, you can get some surprisingly great effects. Yeah, the casing is usually a plastic one for almost all of their pedals. But other than that, their products can make some great tones. The FX600, however, is a bit of a different multi-effects unit compared to some other examples here. It's a standard-size compact pedal that comes with six effects – flanger, chorus, delay, phaser, tremolo, and even pitch shifter. The controls are pretty simple, with the two parameter knobs changing their function depending on the type of the effect. Although you can only use one effect at a time, it's useful for different settings. And it's really cheap.
DigiTech Element XP
Even after all these years, DigiTech never ceases to amaze us, especially with their multi-effects processors. The one that's very interesting these days is their Element XP. It comes with a very simple interface, featuring two footswitches, one multi-purpose expression pedal, as well as a very useful front panel that shows different effects groups. It comes with 200 presets, 100 of which are for you to play around with. Just plug this one into any PA system or even a home stereo, and you're ready to rock. Although it doesn't have a looper, it comes with some interesting drum patterns for practice sessions.
Donner Alpha FX
Donner is a pretty underrated brand, but the company makes some mind-blowingly cheap pedals. In their collection, they also have multi-effects stuff. A great example is Donner's Alpha FX, which is, in our opinion, one of the best budget multi-effects pedals of all time. It's basically like a few different effects groups put into one pedalboard-friendly unit. There are three groups of effects on there, and each can be turned on or off with its separate footswitch. We have modulation, delays, and reverbs on it, and you can use all three groups at the same time if you want. Although you don't have distortion and other effects on it, this is a great cheap alternative if you need some stuff for your live setup.
Mooer GE200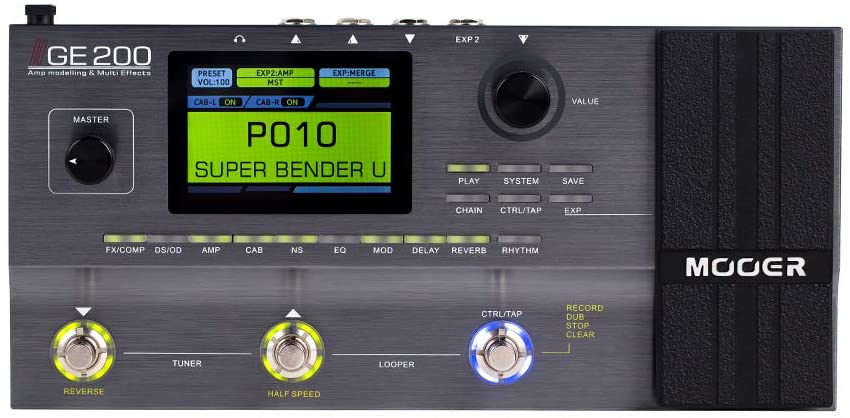 Although it sits right on the edge between inexpensive and expensive, we just have to include the wonderful Mooer's GE200 on this list. Why? Well, you get a very compact and well-made multi-effects unit that's capable of creating some pretty realistic guitar amp and effects tones. In fact, we're pretty much certain that some experienced and trained guitarists will fail blind tests.
On top of all this, GE200 has an advanced interface for creating even the most complex presets. And all of these presets can be called in pretty fast during a live performance, with no unwanted stops or clicks in between. The multi-purpose expression pedal on it is pretty reliable and you can rock it all night without any fears that you'll damage it. If you're looking for something cheap, compact, and reliable that will replace your bulky amp and pedalboard, but that will still sound great – then get yourself Mooer's GE200.