By learning how to play an instrument, you get a new voice that helps you express your emotions. But for this, your instrument needs to have great expression qualities. And what a better way to get these expression qualities than with an electric guitar? And we mentioned having a "second voice" with an instrument. With electric guitars, this is made possible using wah pedals.
The concept was developed way back in the 1960s after a happy accident over at Warwick Electronics. By altering the EQ in such a way that the peak frequency moves up and down, the resulting tone gets some voice-like qualities. This way, your electric guitar gets a new dimension, ultimately allowing you to express yourself better through either lead or rhythm sections. And it's interesting how just one simple device can alter your tone so much – it's basically a potentiometer in the form of a rocking foot pedal.
The wah pedal has found its way in pretty much any genre where electric guitar is present. Lead sections, riffs, chords, both distorted and clean – this effect is present in all of these settings. However, it's hard to find a good wah-wah pedal for the money. This is why we decided to get more into this topic, dig up some interesting examples, and bring you the list of the best wah pedals that you can find on the market today. Whatever kind of electric guitar that you play, whatever is the genre that you're into, there's definitely going to be something for you in here.
Dunlop Crybaby GCB-95
Looking at its circuitry, Dunlop's classic Crybaby, the GCB-95 model, still retains the simplicity of the oldest wah pedals. And even to this day, this particular configuration works the best for many guitar players of all the different styles. You'll basically get the same tonal characteristics as the biggest names in the world of guitar.
It's a classic wah pedal that's turned on or off using the toe-clicking action. It's well-made, it's reliable, and it's really simple to use. There are no additional knobs or switches on it, but that's exactly what many guitar players love about it. You just take it out of the box, put it in your signal chain, and you're ready to rock. The most interesting part is that this pedal is still pretty cheap.
Vox V845
Going way back to the 1960s, the first wah pedal was technically under the VOX name. The company's V845 wah is in many ways similar to the classic Crybaby that's sold under Dunlop's name. Once again, we have a very straightforward device. It has a very rigid housing, with no additional controls. Just the good old rocking part and the additional switch for the famous toe-clicking action to turn it on or off.
Aside from it being so simple to use, Vox's V845 is mostly vintage-oriented when it comes to its tone. With this pedal, you'll be able to get those 1960s and 1970s vibes that are still much-appreciated even in modern music. But the most important thing about V845 is that it's widespread in so many different musical styles, just like Dunlop's classic Crybaby. These two are the most iconic wah pedals of all time. And they're not expensive at all.
Morley Steve Vai Bad Horsie 2
However, some like to have more parameter controls at their disposal. For them, it's not just about having a simple wah-wah effect, but also about having some versatility and functionalities along with it. For those looking for more options, we have the Steve Vai signature by Morley, called Bad Horsie 2. Now, here we don't have any kind of toe-clicking action, which is something that modern guitar players might be bothered with, especially in louder settings where they can't hear whether the effect was left on or off. Instead, Bad Horsie 2 works with electro-optical switching. All you have to do is put your foot on it, and the moment you move it, it's turned on. After you're done, the effect is turned off.
As if this wasn't enough, there's also an additional "contour" switch that completely reinvents the tone. Using two knobs, you can further shape the tone. And using the additional footswitch on the pedal, you can engage this other mode whenever you want. It's slightly more expensive but it's a very versatile pedal.
Electro-Harmonix Wailer Wah
Electro-Harmonix also jumped in on the wah pedal game, so we have their Wailer Wah as a great example. It's another simple pedal with a vintage-inspired design and operation. This one comes with a very durable casing and an overall great build quality. The tone also keeps up with these great features, and you'll get some very expressive yet smooth tones with it. Pair it up with any distortion pedal, and this wah will always bring its most important qualities.
Hotone Soul Press
Soul Press by Hotone is a bit of a different deal. In fact, this is a multi-purpose pedal that also acts as a wah. The most interesting thing is that it's smaller than a regular wah pedal, which makes it super-practical for crowded pedalboards. Aside from the wah effect, it can also act as a volume or an expression pedal when paired with a suitable device.
But despite the multi-functionality, the wah effect qualities don't suffer. With this little bad boy, you'll be able to add a new dimension to your tone. And when needed, you'll be able to use it as a volume or an expression pedal. Considering all these features, it's definitely worth the price if these traits fit your needs.
Xotic Effects XW-1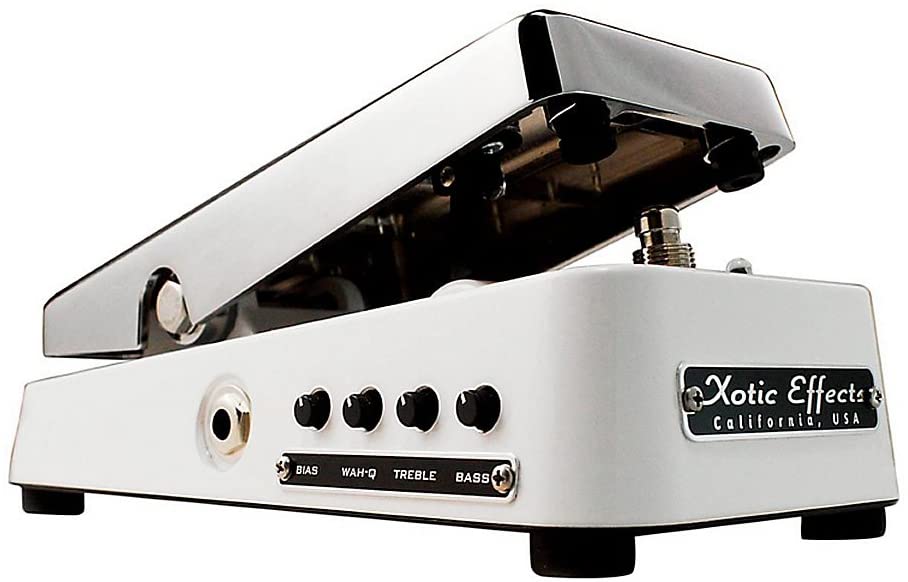 Lastly, we'd mention a more of a high-end piece, Xotic Effects' XW-1 wah. To put it simply, this one is for control freaks who want to have their hands at as many aspects of their tone as possible. The pedal is also equipped with a 2-band EQ, the "Wah Q" control, and the "bias" control, all providing you with some very detailed tone-shaping features. Of course, the price is a bit higher, but it's definitely worth it if you need both quality and versatile wah effect for any genre or setting.