Guild has a long standing reputation for producing high quality guitars, and they continue with that tradition with the Starfire V. It may be priced a bit on the high end with a street price of over $1,000, but once you take a look at what you get it's hard to debate that it isn't worth the price.
Semi-hollow body guitars just have a vintage vibe to them, and the Starfire V certainly doesn't disappoint. It features a double cutaway design with an arched top, and the white binding (along with the dual f-holes), adds a touch of style. The thinline profile makes it extremely comfortable to play as compared to some other similar models with a thicker body; those can oftentimes come off as a little bulky.
Guild uses a 'soft U' profile for the neck on the Starfire V which keeps it from feeling like a baseball bat (that's a good thing, by the way…). The tonewoods used for the multi-piece construction (mahogany, maple, and more mahogany) not only add strength but they help to bring out the best sound possible. Capping it off is a rosewood fretboard with 22 frets and pearloid block inlays.
You can't really get any more vintage than the hardware on the Starfire V. Twin 'Little Bucker' humbucking pickups are controlled with individual volume and tone knobs, and the three position selector switch on the lower bout keeps you from accidentally knocking it out of place.
The Tune-O-Matic style bridge is mounted to a rosewood base to add an even more elegant look.. A big plus is the Grover Sta-Tite open gear tuning machines, which are a perfect match for the vintage style Guild vibrato system.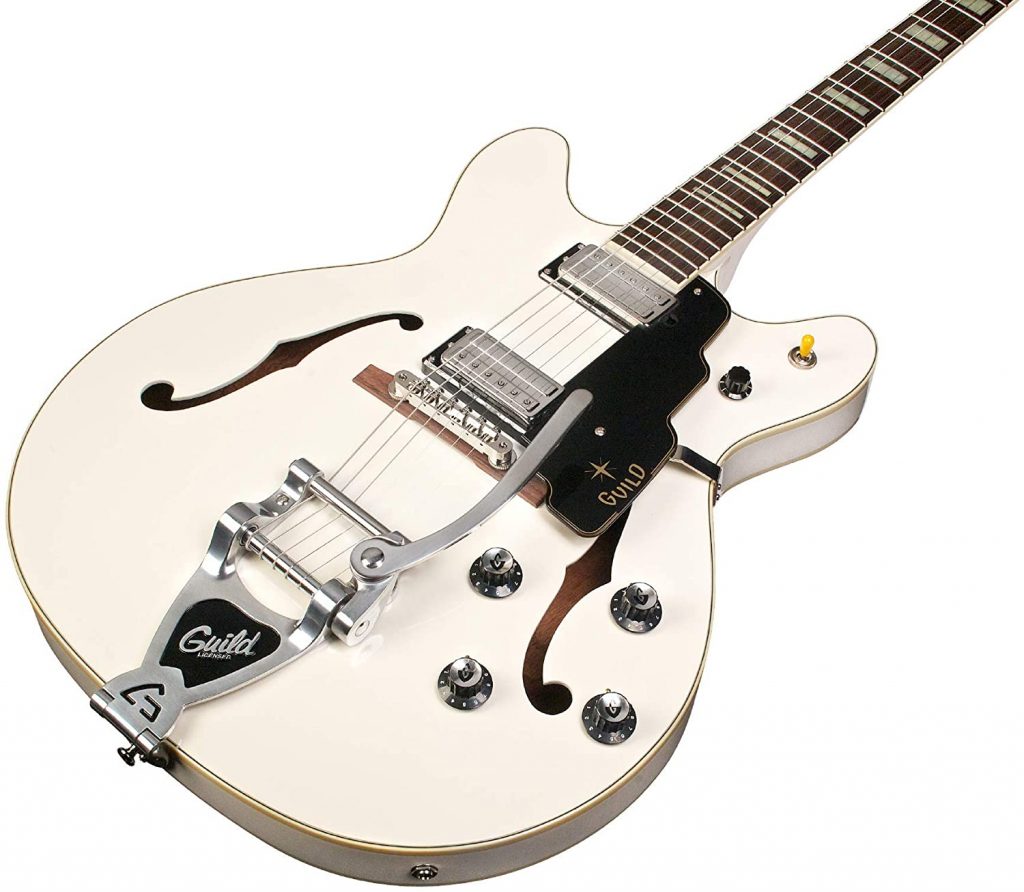 It's always refreshing to see a manufacturer which realizes that a customer's investment needs to be protected, and the plush lined case that comes with the Starfire V is a very nice touch. It's yet another feature that adds to the overall class that this guitar just has oozing out of it.
From the first time you pick up the Starfire V, you know you are dealing with a top shelf instrument. The playing action is butter smooth, which – combined with the comfortable neck profile – makes playing chords and single note lines almost effortless.
The wide range of tones that you can coax out of the Little Bucker pickups is impressive as well. It's easy to look at a semi-hollow body like the Starfire V and think it's just for jazz or rockabilly. We beg to differ! Pared up with the right amp, you can get just about any sound you may need, from raunchy roots rock to gritty blues, with a little country twang thrown in for good measure.
For those players looking for a great semi-hollow body guitar, then it's hard to look much farther than the Guild Starfire V. It has all of the hallmark features of a top-of-the-line model, and the level of flexibility and comfortability it offers is simply hard to beat.