Distortion pedals are, by far, one of the essential parts of every guitar player's setup. Whatever are the other effects that you're using, your setup will always be "distortion-centric," one way or the other. And it comes as no surprise since the distortion is one of the oldest and most desirable effects in guitar-oriented music. In fact, this rough-sounding clipping effect has marked the music in the second half of the 20th century.
However, the problems might occur when you start looking for the right distortion pedal for you. It's not only hard to dig up stuff that you'll like, but the prices will make your head spin. And it's not uncommon for guitar players of all skill levels to have this same problem of finding a reasonably-priced distortion pedal. This is exactly why we decided to look more into the matter, do some digging, and find some cheaper examples out there. Although some might think it's impossible, there are actually great pedals under the $50 mark. So without further ado, here are what we consider to be the best distortion pedals under $50.
Donner Morpher
It's pretty surprising to see such a small and yet potent pedal like Donner's Morpher. It's so small that it could fit even the most crowded pedalboard out there. It comes with only the bare essentials, which is, in the end, all that you really need to dial in good tones. Aside from the bypass switch, it has volume, tone, and drive controls. However, there's also an additional switch that opens up new possibilities. This is a 3-way toggle that lets you choose between three modes – natural, tight, and classic. The natural is kind of neutral, the "tight" voicing adds some bottom and high-end of the spectrum, while the "classic" mode imitates those old school British-style amps. Pretty versatile for such a cute little pedal.
Mooer Black Secret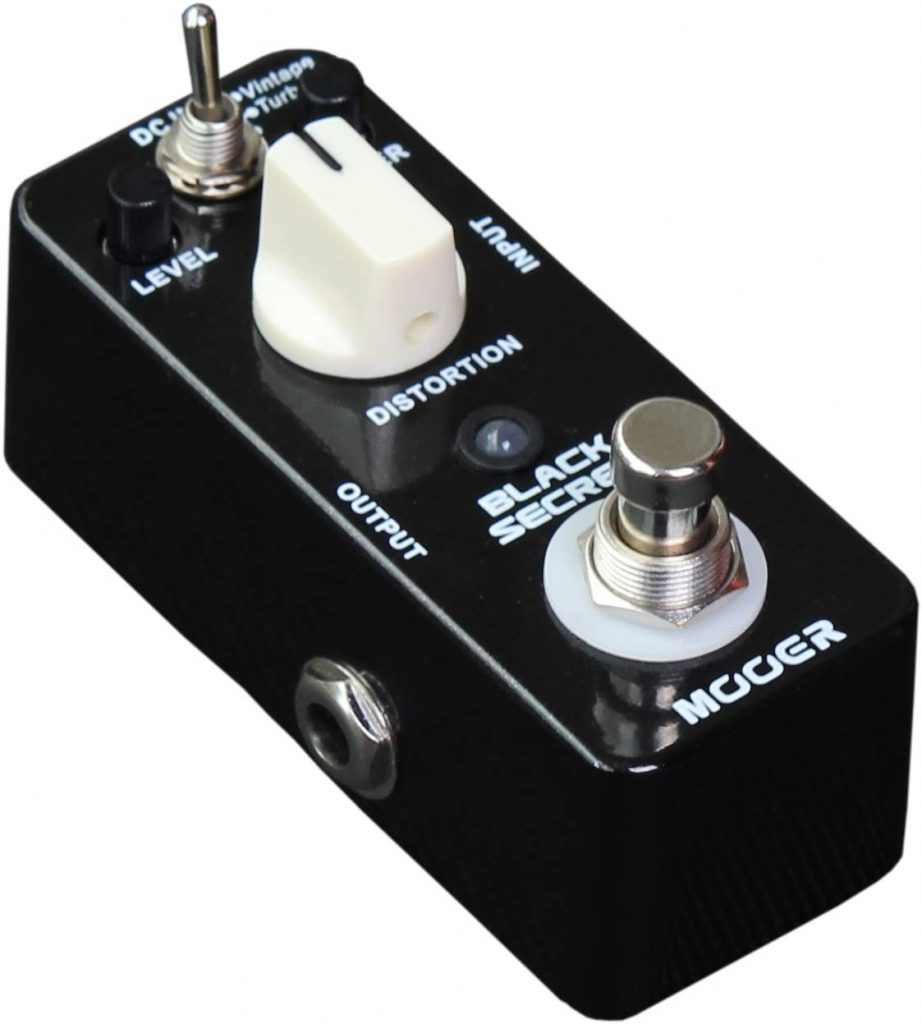 Mooer is another brand that has some unusually cheap yet great pedals to choose from. When it comes to distortion, we would single out their Black Secret as one of the best cheap pedals on the market. In many ways, this pedal is similar to Donner Morpher. We have almost the same design, and a very potent pedal packed in a very compact casing. There are basic controls for volume, tone, and drive, but the pedal also comes with an additional switch. Instead of three modes, we have two on this one. You have "vintage" that adds some smoothness and gives an accent to the mid-range of the spectrum. The "turbo" mode adds more volume and makes the tone sound more modern. You can cover anything from blues and up to modern metal with this little pedal. And all that under $50.
Boss DS-1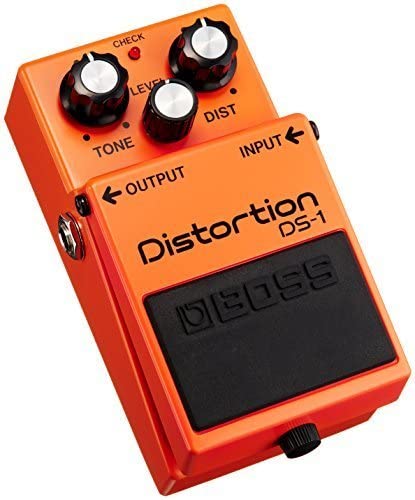 Of course, it's impossible not to mention the obvious choice for this list. Ever since the late 1970s, Boss has been producing its legendary DS-1 pedal. Dubbed only as "Distortion," it's as simple as its name suggests. It comes with only three knobs and no additional switches. But while this seems not as exciting at first, the response fo the drive control lets you make anything from a subtle crunch and up to screaming harmonically rich lead guitar tones.
Interestingly enough, Boss hasn't changed the circuitry that much over the years. The pedal's essence remains almost the same as it did back in the 1970s. And not to mention that they kept the price at a reasonable level, despite it being one of the best-selling guitar products of all time.
TC Electronic Dark Matter
TC Electronic have cemented their place as one of the most important guitar pedal manufacturers in the world. But what's quite mindblowing is that they have some super cheap but awesome distortion pedals. With their Dark Matter, you'll be able to create some of the heaviest tones known to man.
This one comes with controls for volume, gain, and a 2-band EQ. In addition, you can also find a very useful switch for two different voicings. You can add some of those tight-sounding low ends into the mix when you flip it. But overall, it's a very versatile distortion pedal that can help you create some pretty diverse tones.
Behringer TO800 Vintage Tube Overdrive
Although many are skeptical about Behringer and their pedals, they actually have some awesome stuff to offer. Although significantly below the $50 mark, their TO800 overdrive is one of the best pedals you can find today. Seriously – this simple pedal can make you sound as if you're using the original Ibanez Tube Screamer from the early 1980s. Pair it up with a tube amplifier, and you've got yourself some of the richest-sounding organic distortions out there.
The plastic casing might be a bit of a downside. However, for this price, you can't really complain about the build quality. And it's so cheap that you can always buy a spare one just in case!
TC Electronic MojoMojo
Okay, TC Electronic is so great that they deserve at least one more mention on this list. Pretty similar configuration to Dark Matter, MojoMojo is an overdrive that can help you out in pretty much any genre. Use it as your main dirt box, and you'll be able to make some pretty smooth overdrives. Or add it as a booster to your setup and you'll be able to push your main distortion into some high-gain screaming lead territories. With MojoMojo, the possibilities are almost endless. It's no wonder that a guitar champion like Paul Gilbert uses one of these.
Joyo JF-17 Extreme Metal
Lastly, we would mention a surprisingly cheap Joyo JF-17. Called "Extreme Metal," this pedal will help you achieve some of the tightest metal tones you can imagine. Aside from a 3-band EQ, volume, and drive controls, there's also a boost mode with its additional control. This one adds even more gain when you need it for those lead sections. It's the ultimate metal machine, and it's below $50!